Our Lady of Lourdes
Art. B4085
Pricelist
| cm | inch | natural | stained | stained 3 col. | antique | color | real gold |
| --- | --- | --- | --- | --- | --- | --- | --- |
| 8 | 3,15 | - | - | - | - | - | - |
| 10 | 3,94 | - | - | - | - | - | - |
| 13 | 5,12 | - | - | - | - | - | - |
| 17 | 6,69 | - | - | - | - | - | - |
| 22 | 8,66 | - | - | - | - | - | - |
| 28 | 11,02 | - | - | - | - | - | - |
| 33 | 12,99 | - | - | - | - | - | - |
| 40 | 15,75 | - | - | - | - | - | - |
| 45 | 17,72 | - | - | - | - | - | - |
| 50 | 19,69 | - | - | - | - | - | - |
| 63 | 24,80 | - | - | - | - | - | - |
| 95 | 37,40 | - | - | - | - | - | - |
| 130 | 51,18 | - | - | - | - | - | - |
all prices are VAT included
Description
The commemoration of the apparitions is celebrated on February 11th.

Lourdes is located in the south of France, near the border with Spain and is one of the world's most visited places of pilgrimages, which began in 1858 with a series of 18 appearances of the Virgin Maria.
The 14 year old Bernadette Soubirouns saw repeatedly the Virgin Mary at the grotto of Massabielle beginning from February 11th. Mary was dressed in a white cloth with a blue belt. During one of these encounters, the young Bernadette opened a source in the Massabielle grotto; its water is nowadays considered curative.

Although studies did not find out any unusual properties of the spring water, every year about 6 million people visit Lourdes in order to heal from their diseases, injuries and ailments.

Of the authenticity of the apparitions priests and bishops were only convinced as Bernadette, daughter of a poor miller and for this reason with no scholar education, explained that the Virgin Mary had told her to be "the Immaculate Conception": a theological expression that only shortly before was used by the Pope and about which she couldn't know.

This woodcarved Lady of Lourdes is available in natural wood as well as in the variants stained, stained 3 colors, color and some measures also in real gold. The color version ist handpainted. The belt of the Lady of Lourdes is blue according to the legend.

Variants
Available versions and sizes: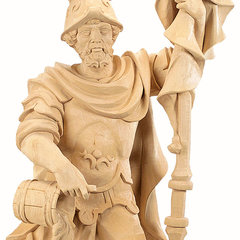 natural
Natural wood not treated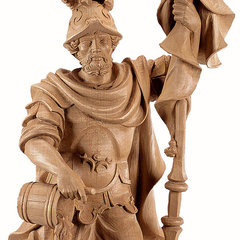 stained
Stained and treated with pastel paints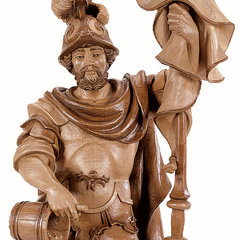 stained 3 col.
Stained with at least 3 shades of color and treated with pastel paints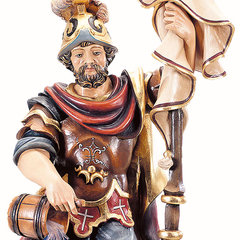 antique
Colored with acrylic colors on a chalk background

color
Colored with oil paints and gilded with gold leaf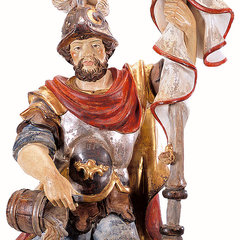 real gold
Colored with acrylic colors on a chalk background and gilded with 18 carat gold