Online Wood art
The wood art tradition has a long history in Val Gardena, Italy. The tradition of woodcarving dates back to the XVII century, when farmers started producing wood toys and utensils during the long winter season. The peasants than used to sell the items at spring markets.
Time passed by and woodcarvers improved their abilities and skills, they began manufacturing high quality wooden works, which with the time got more and more value. In the XVIII century the art of wood carving became the most important economic activity in the valley. The masters started to sell their masterpieces all over the world.
Nowadays there are a lot of wood craftsmen in Val Gardena. They are specialized in the realization of wooden products, both sacred art and secular art. The artists product especially: wooden toys, dolls, rocking horses, wooden Nativity scene figurines, crucifixes, wood sculptures of animal figures, wood carvings of angels, saints, Madonna, Jesus Christ, secular characters, wood cuckoo clocks, bas-reliefs, etc.
Thanks to the great workmanship of the wood artisans, in Val Gardena were opened two art schools specialized in wood arts. Students have been learning the manufacturing of wood for a long time, becoming famous wood artisans known all over the world thanks to their unique high quality pieces characterised by a high artistic value.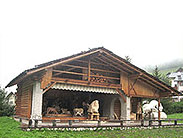 There is another important and significant sign of the development of the wood sculpture in Val Gardena, the homeland of the wood art: in Holy Year 2000, a group sswood carved crib in the world. The completely handmade crib is of extraordinary dimensions (some of the wooden statues are 220 cm high) and it is in permanent exhibition in the Iman Center in Santa Cristina, Val Gardena.
During the exhibition UNIKA, the world wide famous fair of wood sculptures, local masters in wood carving show their works, which are unique and exclusively handmade masterpieces . The fair takes place every year in September.
With Patrick-Demetz.com, wood art is online; the online store makes it possible to purchase wood art made by local artisans in Val Gardena online.
Visit the online Catalogue to learn about the wide collection of wood pieces like saints, angels, wood statues of the Madonna, Jesus Christ, wooden crucifixes, wood reliefs, wood figures of Christmas Nativity sets, woodcarvings of animals, cuckoo clocks, entirely hand carved wooden sculptures, personalized sculptures, etc.