Madonna of Fatima
Art. K0167
Pricelist
| cm | inch | natural | stained | stained 3 col. | antique | color | real gold |
| --- | --- | --- | --- | --- | --- | --- | --- |
| 12 | 4,72 | - | - | - | - | - | - |
| 20 | 7,87 | - | - | - | - | - | - |
| 30 | 11,81 | - | - | - | - | - | - |
| 40 | 15,75 | - | - | - | - | - | - |
| 60 | 23,62 | - | - | - | - | - | - |
all prices are VAT included
Description
The woodcarved statue of the Madonna of Fatima is available in the variants nature, stained, stained 3 colors, color and gold as well as in many different measures. This Madonna of Fatima is carved in maple wood and handpainted by the artisans of Val Gardena, South Tyrol.

The three secrets of Fatima are parts of a message, that the three shepherd children Lúcia Santos, Jacinta Marto and Francisco Marto have received on 13th May 1917 by the Virgin Mary.
Fatima is probably the most prophetic among the modern apparitions. The first and the second part of the "secret", mainly relate to the horrible vision of hell, devotion to the Immaculate Heart of Mary, the Second World War and on the prediction of the immense damage that the fallen of the Christian faith and the Russian totalitarianism would do to humanity.
The second secret is interpreted as a prediction that the First World War would end, along with the prediction of another war during the pontificate of Pope Pius XI.
The Third Secret, which was riddled only in 2000, refers to the atonement and the sacrifice of the Church martyrs.


Variants
Available versions and sizes:
natural
Natural wood not treated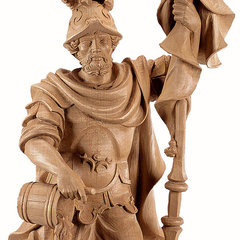 stained
Stained and treated with pastel paints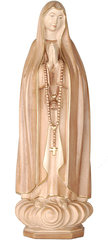 stained 3 col.
Stained with at least 3 shades of color and treated with pastel paints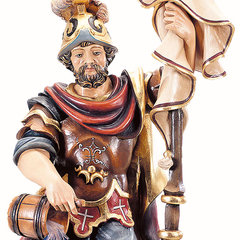 antique
Colored with acrylic colors on a chalk background

color
Colored with oil paints and gilded with gold leaf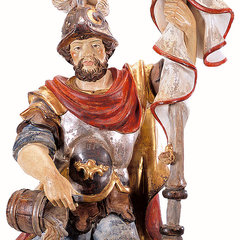 real gold
Colored with acrylic colors on a chalk background and gilded with 18 carat gold