Pricelist
| cm | inch | color |
| --- | --- | --- |
| 12 | 4,72 | - |
| 15 | 5,91 | - |
| 20 | 7,87 | - |
all prices are VAT included
Description
The nativity figure Mary of the Modern Art nativity is carved in ash tree wood and hand painted. Mary is available in the sizes 12 cm, 15 cm and 20 cm.

Mary knees praying besides his new born child. Her long hair is covered by a headscarf.

This wood carved nativity figure can also be bought as a set with the entire Family, as well as the Modern Art complete nativity 6 pieces.

Variants
Available versions and sizes: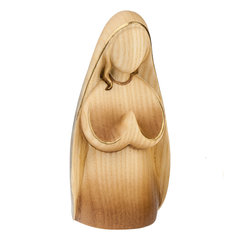 color
Colored with oil paints and gilded with gold leaf