Pricelist
| cm | inch | natural | pat. gold/silver |
| --- | --- | --- | --- |
| 15 | 5,91 | - | - |
| 20 | 7,87 | - | - |
| 25 | 9,84 | - | - |
| 30 | 11,81 | - | - |
| 40 | 15,75 | - | - |
all prices are VAT included
Description
The Modern Art Madonna Nut Wood is a piece of art of the woodcarving company Demetz Patrick in Val Gardena. The Modern Art Madonna is available in several types of wood.

The depicted Madonna is carved in nut wood. The nut wood is a very elegant and high-class wood. It is quite tender and often used for the production of musical instruments and premium furniture. The color of the nut wood is very dark and goes from brown to grey with almost black grain.
The Madonna presents itself in modern style with refined elegance. It is one of the most popular wooden figures, because its elegance and simplicity fits well into every ambience.

The Madonna Modern Art Nut Wood is available in the sizes 15, 20, 25, 30 and 40 cm as well as in the variants natural and stained gold/silver.
Variants
Available versions and sizes: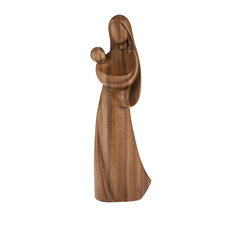 natural
Natural wood not treated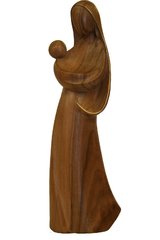 pat. gold/silver
Wood stained and treated with pastel paints and decorated with gold and silver leaf