Pricelist
| cm | inch | natural | color |
| --- | --- | --- | --- |
| 12 | 4,72 | - | - |
| 15 | 5,91 | - | - |
| 20 | 7,87 | - | - |
all prices are VAT included
Description
20 cm: length 90 cm, depth 41 cm and height 43 cm
15 cm : length 66 cm, depth 33 cm and height 32 cm
12 cm : length 55 cm, depth 28 cm and height 26 cm
The nativity set Modern Art Complete Nativity 17 pieces is made up of 17 nativity figures: Joseph, Mary, Infant Jesus, Wise Man standing, Wise Man kneeling, Wise Man moor, Gloria Angel, Shepherd with sheep and stick, Woman with jar, Shepherd kneeling with flute, Sheep standing left, Sheep standing right, Sheep lying, Goat standing, Ox, Donkey and Modern Art stable illuminated.

The nativity figures are available in the sizes 12 cm, 15 cm and 20 cm. The stable will be delivered in the relative measure.

The Modern Art Nativity counts with even more nativity figures, which can be ordered additionally.
Since the nativity set is new, more elements will be developed in the coming years, which you can add to your crib from year to year.

Enjoy this high-quality wood carved Christmas Nativity from the Val Gardena.

Variants
Available versions and sizes: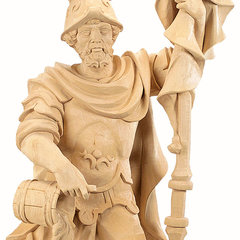 natural
Natural wood not treated
color
Colored with oil paints and gilded with gold leaf