Pricelist
| cm | inch | natural | stained 3 col. | antique | color |
| --- | --- | --- | --- | --- | --- |
| 7 | 2,76 | - | - | - | - |
| 9 | 3,54 | - | - | - | - |
| 12 | 4,72 | - | - | - | - |
| 15 | 5,91 | - | - | - | - |
| 20 | 7,87 | - | - | - | - |
| 25 | 9,84 | - | - | - | - |
| 30 | 11,81 | - | - | - | - |
| 35 | 13,78 | - | - | - | - |
| 45 | 17,72 | - | - | - | - |
| 60 | 23,62 | - | - | - | - |
all prices are VAT included
Description
The wooden figure of the mountaineer with the rope is realized by the wood carving company Insam Ewald in Ortisei, Val Gardena - South Tyrol. The wooden sculpture represent a mountaineer with the traditional leather pants, a "loden" jacket and a hat. The climber hangs on a climbing rope and carries a telescope as if he would admire the magnificent mountain peaks during the rappelling. Therefore, this wooden figure is also the perfect memory of a mountain holiday in the breathtaking Dolomites in the heart of the Alps.
The climber is available in many sizes between 7 cm and 60 cm, as well as in the variants natural, stained, stained three colors, antique and color.
Variants
Available versions and sizes: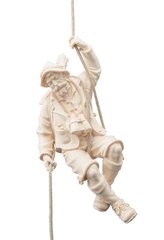 natural
Natural wood not treated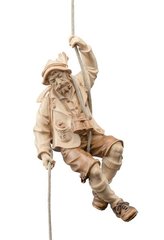 stained 3 col.
Stained with at least 3 shades of color and treated with pastel paints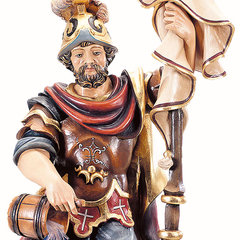 antique
Colored with acrylic colors on a chalk background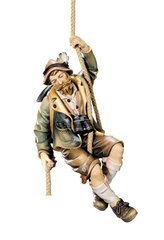 color
Colored with oil paints and gilded with gold leaf