St. Christophorus A
Art. EI1010
Pricelist
| cm | inch | natural | stained | stained 3 col. | antique | color | real gold |
| --- | --- | --- | --- | --- | --- | --- | --- |
| 40 | 15,75 | - | - | - | - | - | - |
| 60 | 23,62 | - | - | - | - | - | - |
| 80 | 31,50 | - | - | - | - | - | - |
all prices are VAT included
Description

Commemoration day: 25th July

Saint Christopher is venerated as a martyr .

According to the legend, Christopher was a tall and fearsome Canaanite. He was looking for the "greatest king there was" in order to serve him. However, he was not able to find a very great kind. One day, he met a hermit who suggested he should help people to cross the river because of his size and strength. The hermit promised that this service would be pleasing to Christ.

Christopher was performing this service, when a little child asked him to take him across the river. During the crossing, the child seemed to get heavier and the river became swollen. Christopher had difficulty to carry the child across the river. When he finally reached the other side, he said to the child: "You have put me in the greatest danger. I do not think the whole world could have been as heavy on my shoulders as you were." The child replied: "You had on your shoulders not only the whole world but Him who made it. I am Christ your king, whom you are serving by this work."

Christopher later visited the city of Lycia and there comforted the Christians who were being martyred. Finally he got martyred as well.


Variants
Available versions and sizes: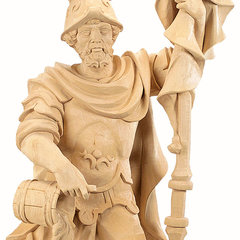 natural
Natural wood not treated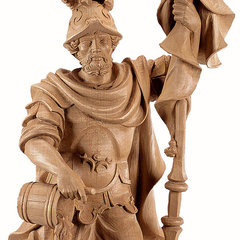 stained
Stained and treated with pastel paints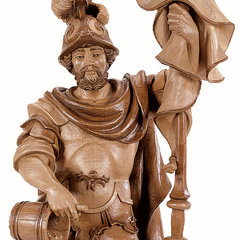 stained 3 col.
Stained with at least 3 shades of color and treated with pastel paints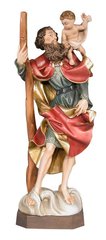 antique
Colored with acrylic colors on a chalk background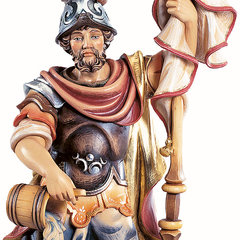 color
Colored with oil paints and gilded with gold leaf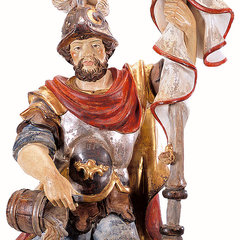 real gold
Colored with acrylic colors on a chalk background and gilded with 18 carat gold