St. George baroque standing
Art. K05301
Pricelist
| cm | inch | natural | stained | stained 3 col. | antique | color | real gold |
| --- | --- | --- | --- | --- | --- | --- | --- |
| 12 | 4,72 | - | - | - | - | - | - |
| 20 | 7,87 | - | - | - | - | - | - |
| 30 | 11,81 | - | - | - | - | - | - |
| 40 | 15,75 | - | - | - | - | - | - |
| 60 | 23,62 | - | - | - | - | - | - |
| 80 | 31,50 | - | - | - | - | - | - |
all prices are VAT included
Description

Commemoration day: 23rd April

Saint George is known as one of the fourteen Holy Helpers. George was born in Cappadocia (Turkey) and was a soldier of the Emperor Diocletian. The Emperor appreciated him very much because of his bravery. However, when the Emperor Diocletian issued a decree for the persecution of Christians, George abandoned the knightly order and declared himself a Christian. The Emperor could not accept this and arrested George. He tortured and tormented George, but the Christina endured all the humiliation and kept his faith. God gave George the strength to endure the pain and healed all his wounds at night. However, George was finally beheaded. He is also known as "the great martyr" because he had to suffer several martyrdoms until his death. The veneration of St. George spread rapidly and countless churches were built in his honor. Among the Greeks, George was a symbol of Christian bravery. A St. George's knighthood was founded and he became as well patron of England.

A legend tells about the soldier George, who could baptize 15.000 people in exchange for the death of the dragon, which bullied for years Cappadocia. Here comes the famous figure of Saint George with knight slaying a dragon.

Presentation: as a knight, with or without dragon with lance, flag, shield

Patron of: the Byzantine Empire, England, Georgia, Ethiopia, Greece, Serbia, Aragon, Catalonia, Tyrol, Barcelona, Genoa, of the diocese of Limburg, the emergency responders, peasants, saddlers, miners, blacksmiths, coopers, artists, soldiers, hikers, many knights, the horse and rider, the prisoners, the cattle, the hospitals, for courage, for the faith, against temptations, in fighting all kinds, against the dangers of war, for the weather, against fever, against the plague.
Variants
Available versions and sizes:
natural
Natural wood not treated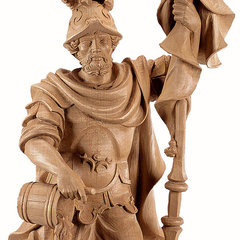 stained
Stained and treated with pastel paints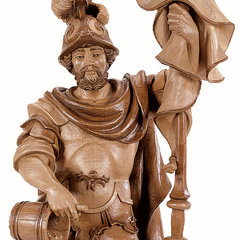 stained 3 col.
Stained with at least 3 shades of color and treated with pastel paints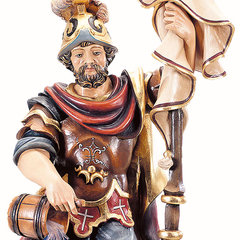 antique
Colored with acrylic colors on a chalk background
color
Colored with oil paints and gilded with gold leaf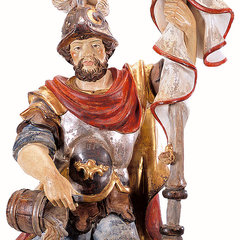 real gold
Colored with acrylic colors on a chalk background and gilded with 18 carat gold