Pricelist
| cm | inch | natural | stained | stained 3 col. | antique | color | real gold |
| --- | --- | --- | --- | --- | --- | --- | --- |
| 20 | 7,87 | - | - | - | - | - | - |
| 30 | 11,81 | - | - | - | - | - | - |
| 36 | 14,17 | - | - | - | - | - | - |
| 40 | 15,75 | - | - | - | - | - | - |
| 60 | 23,62 | - | - | - | - | - | - |
| 80 | 31,50 | - | - | - | - | - | - |
all prices are VAT included
Description
Remembrance day: 3rd November

Hubertus was born in Aquitaniene. He was the Count Palatine of the Theodoric III court in Paris as well as the court of Pepin the Middle, with whom he was related. Hubertus married the princess of lions, from which he got his son Floribert. When he widowed, he became a missionary in Brabant and in the Ardennes. Hubertus is therefore also known as the "Apostle of the Ardennes". Here he founded his abbey where his bones can still be found.

Hubert was Bishop of Tongeren-Maastricht in the Netherlands. He later moved its headquarters to Liege due to threats suffered by the Normans. He devoted himself to the goal of Christianization.

Hubertus is the patron of hunters; the 3rd November is his remembrance day as well as the Hubertus hunt day.
According to a legend Hubertus encountered a
deer
during a hunt. The deer was holdin a
shining cross
among its antlers. The deer told Hubert to live a basic life and to go back to simply habits. This is how Hubertus changed his life.
Many
customs
are still preserved: the Hubertus hunt, the Hubertus bread, the Hubertus keys are some of the examples connected to the saints.
Representation
: as a bishop, as a hunter, with a deer carrying a shining cross, with dogs, a hunting horn, a book, a key.
Patron
: of the Ardennes, of the diocese of Liège, the hunters, shooters, butcher, furrier, turners, opticians, metal workers, moulders, mathematicians, hunting dogs, with hydrophobia, against dog bites and rabies in dogs, against snake bites
Variants
Available versions and sizes: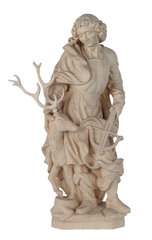 natural
Natural wood not treated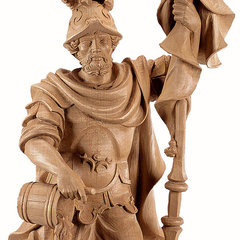 stained
Stained and treated with pastel paints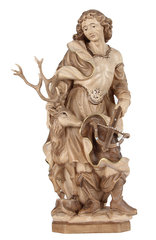 stained 3 col.
Stained with at least 3 shades of color and treated with pastel paints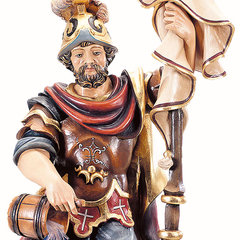 antique
Colored with acrylic colors on a chalk background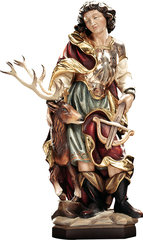 color
Colored with oil paints and gilded with gold leaf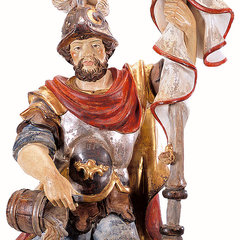 real gold
Colored with acrylic colors on a chalk background and gilded with 18 carat gold