St. James the Great
Art. K06810
Pricelist
| cm | inch | natural | stained | stained 3 col. | color |
| --- | --- | --- | --- | --- | --- |
| 12 | 4,72 | - | - | - | - |
| 20 | 7,87 | - | - | - | - |
| 30 | 11,81 | - | - | - | - |
| 36 | 14,17 | - | - | - | - |
| 40 | 15,75 | - | - | - | - |
| 60 | 23,62 | - | - | - | - |
| 80 | 31,50 | - | - | - | - |
all prices are VAT included
Description
Commemoration Day: 25th July
Saint James is also known as "
Saint James the Elder
(Major)". He was son of Zebedee, the fisher, and of Salome.
James met Jesus for the first time together with his brother
John.
He was there during the most important moments in Jesus life like on
Mount Tabor
, where he saw the
transfiguration of Christ
, and at
Gethsemane
the night before Jesus death.
James has been one of the main gospel preachers; he was arrested even before
Peter
by Herod, who executed him and made of him in this way the first martyr of the Apostles. His remains were brought to
Santiago de Compostela
, which is why it is believed that James taught the gospel as well in Spain. The name of Santiago de Compostela comes from a legend, which tells about the grave where James were buried that was forgotten by everyone. Only thanks to a bright star, the grave was found the again. The place was firstly called "Starfield" and later Santiago (St. James) de Compostela, which became the famous pilgrimage site.
Today the St. James in Santiago is celebrated with a very big feast. Santiago is the most popular place of pilgrimage together with Rome and Jerusalem.
Representation:
as an apostle, as a pilgrim, in the martyrdom, as Moors killer with a horse (knight), with scroll or book, with sword (because he was killed with the sword), with shell, hat, wand, bottle, bag
Patron saint
: of Spain, the pilgrims, the warriors, porters, workers, pharmacists, stocking weavers, druggists, Hatter, chandler, chain smiths, the order called after him, apples and crops, for the weather, for rheumatism
Variants
Available versions and sizes: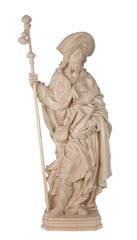 natural
Natural wood not treated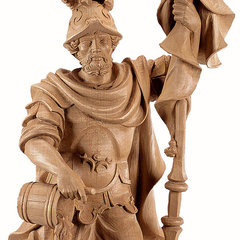 stained
Stained and treated with pastel paints
stained 3 col.
Stained with at least 3 shades of color and treated with pastel paints
color
Colored with oil paints and gilded with gold leaf