St. John Baptist
Art. K06500
Pricelist
| cm | inch | natural | stained | stained 3 col. | antique | color | real gold |
| --- | --- | --- | --- | --- | --- | --- | --- |
| 20 | 7,87 | - | - | - | - | - | - |
| 30 | 11,81 | - | - | - | - | - | - |
| 36 | 14,17 | - | - | - | - | - | - |
| 40 | 15,75 | - | - | - | - | - | - |
| 60 | 23,62 | - | - | - | - | - | - |
| 80 | 31,50 | - | - | - | - | - | - |
all prices are VAT included
Description
Remembrance Day
: 24th June
John the Baptist
was the pioneer and forerunner of Christ.
John was the son of
Elizabeth
and
Zechariah
. Elisabeth was actually considered infertile because of her old age, but when the
Angel Gabriel
announced the birth of their son, Zacharias doubted the announcement. He became dump. Only after John was born and Zechariah realized that the proclamation was right, he got back the voice and praised God.
As a young man, John retired to the desert for a simple live. He later came to preach to the population for the coming of the
Redeemer
. He won the trust of many disciples and baptized many believers in the river Jordan. When
Jesus
asked to be baptized by him, John announced: "This is the Lamb of God who takes away the sins of the world." His disciples left him to move on with Jesus: his work was done.
King Herod
saw the growing popularity of John as a threat. He took John provisionally arrested and later he decided to kill him, although he feared the wrath of his people. At the request of Salome, daughter of Herodias, John was beheaded and his head was handed to her on a tray. His body was buried in Samaria and on the place of his burial, a church was built.
Presentation
: at the baptism of Jesus, baptizing, with leather clothing and lamb, preaching and with a cross bar.
Patron
: Saint of Malta, the French region of Burgundy and Provence, Florence and Amiens, the weavers, tailors, pastors, musicians, farmers, anti-anxiety, teething problems and headaches.
Variants
Available versions and sizes: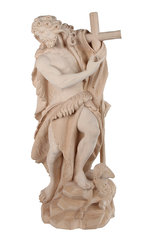 natural
Natural wood not treated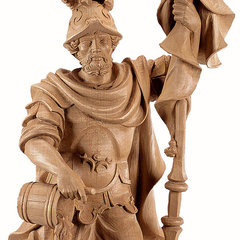 stained
Stained and treated with pastel paints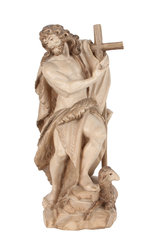 stained 3 col.
Stained with at least 3 shades of color and treated with pastel paints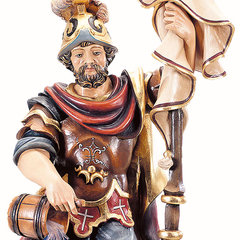 antique
Colored with acrylic colors on a chalk background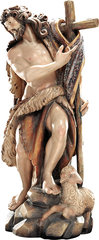 color
Colored with oil paints and gilded with gold leaf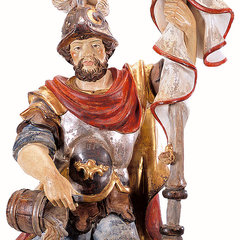 real gold
Colored with acrylic colors on a chalk background and gilded with 18 carat gold