St. Lawrence of Rome
Art. K07330
Pricelist
| cm | inch | natural | stained | stained 3 col. | antique | color | real gold |
| --- | --- | --- | --- | --- | --- | --- | --- |
| 15 | 5,91 | - | - | - | - | - | - |
| 20 | 7,87 | - | - | - | - | - | - |
| 30 | 11,81 | - | - | - | - | - | - |
| 36 | 14,17 | - | - | - | - | - | - |
| 40 | 15,75 | - | - | - | - | - | - |
| 60 | 23,62 | - | - | - | - | - | - |
| 80 | 31,50 | - | - | - | - | - | - |
all prices are VAT included
Description
Remembrance day: 11th August

Lawrence of Rome was a Roman deacon at the time of Pope Sixtus II. and died as a martyr. The deacon Lawrence was responsible for the administration of the Church property in Rome. The former Roman emperor Valerian let the Pope Sixtus II beheading and called Lawrence immediately afterwards to give him the church treasury. Lawrence didn't obey and said instead that the poor and the sick people were the real treasure of the Church. Therefore Lawrence was tortured, put on a hot iron rust ad executed to dead.

Representation: St. Lawrence is usually represented in deacon dress and with an iron rust.

Patron: St. Lawrence is patron of many professions that have to do with fire, like fire fighters, bakers, brewers and cooks. Since he managed the property of his church, he is often also called by professionals such as archivists and librarians.


Variants
Available versions and sizes: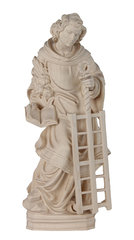 natural
Natural wood not treated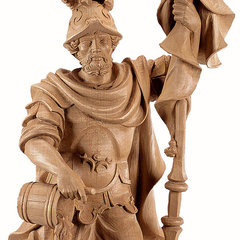 stained
Stained and treated with pastel paints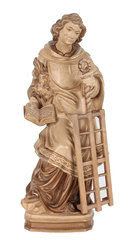 stained 3 col.
Stained with at least 3 shades of color and treated with pastel paints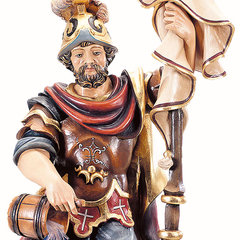 antique
Colored with acrylic colors on a chalk background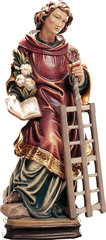 color
Colored with oil paints and gilded with gold leaf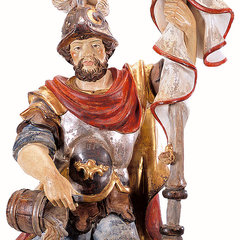 real gold
Colored with acrylic colors on a chalk background and gilded with 18 carat gold