Pricelist
| cm | inch | natural | stained | stained 3 col. | antique | color | real gold |
| --- | --- | --- | --- | --- | --- | --- | --- |
| 12 | 4,72 | - | - | - | - | - | - |
| 20 | 7,87 | - | - | - | - | - | - |
| 30 | 11,81 | - | - | - | - | - | - |
| 36 | 14,17 | - | - | - | - | - | - |
| 40 | 15,75 | - | - | - | - | - | - |
| 60 | 23,62 | - | - | - | - | - | - |
| 80 | 31,50 | - | - | - | - | - | - |
all prices are VAT included
Description
Remembrance Day
: 29 June (together with Saint Peter)
St. Pau
l is considered the first
Christian theologian
, as well as
promoter of Christianity and the Catholic Church
. His real name was Saul of Tarsus. He was born in Cilicia (now Turkey) and worked as a tentmaker. At the beginning, Paul was against the Christian communities, he was even actively involved in the persecution of Christians. On the road to Damascus, where he wanted to destroy the Christian communities,
Christ
appeared to him.
This meeting caused an important change in Saul, so that he became the most faithful follower of Christ, the Apostle Paul. After his baptism, he firstly retired, than he started with his missionary travels. Paul founded Christian communities in all the places he visited.
However, once he reached Jerusalem, he get himself involved into strong conflicts with the Jews and was arrested. He remained under military control, although he was allowed to move freely. He continued to work on the spread of Christianity and he met this way
Peter
. Paul was arrested again in Rome and eventually sentenced to death. According to legend, he was beheaded and his head hit three times on the floor when falling. Three fountains arose at these three points.
The bones of the saint are located in different places in Rome: half of his body rests in St. Peter's, the other half in San Paolo Fuori le Mura and his head in the Lateran.
Presentation
: with a long face, almost bald head and long beard, with book, sword (due to the decapitation), letters, scroll, overturned altar, three fountains, but often also with Peter.
Patron:
of Rome, Umbria, Malta, Kavala in Greece, Poznan in Poland, the Catholic press, the theologians, the pastor, the workers, weavers, basket makers, rope, saddle, with boat trips, for rain, against the sterility of the fields , against fear, against storms, against diseases of the ear and spasms, against snake bites.
Variants
Available versions and sizes: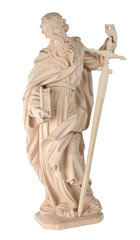 natural
Natural wood not treated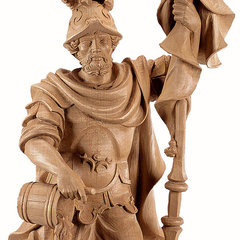 stained
Stained and treated with pastel paints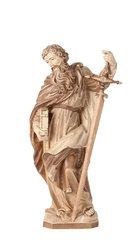 stained 3 col.
Stained with at least 3 shades of color and treated with pastel paints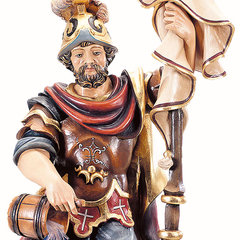 antique
Colored with acrylic colors on a chalk background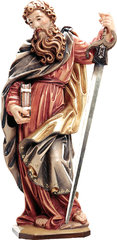 color
Colored with oil paints and gilded with gold leaf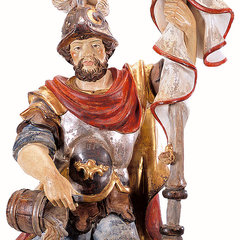 real gold
Colored with acrylic colors on a chalk background and gilded with 18 carat gold