Girl rappeling
Art. EI4048
Pricelist
| cm | inch | natural | stained 3 col. | antique | color |
| --- | --- | --- | --- | --- | --- |
| 10 | 3,94 | - | - | - | - |
| 12 | 4,72 | - | - | - | - |
| 15 | 5,91 | - | - | - | - |
| 20 | 7,87 | - | - | - | - |
| 25 | 9,84 | - | - | - | - |
| 30 | 11,81 | - | - | - | - |
| 45 | 17,72 | - | - | - | - |
all prices are VAT included
Description
The rappelling girl is the wooden figure of a mountaineer who hangs on a climbing rope. The climbing woman carries typical mountain clothing of the past, like leather pants, long wool socks and a loden jacket. The statue is carved and painted with the finest details in maple wood. The rappelling girl is available in numerous sizes between 10 cm and 45 cm as well as in the variants natural, stained, stained three colors, antique and color.


Variants
Available versions and sizes: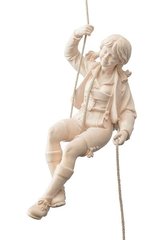 natural
Natural wood not treated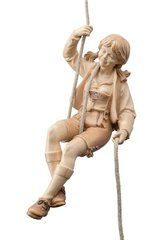 stained 3 col.
Stained with at least 3 shades of color and treated with pastel paints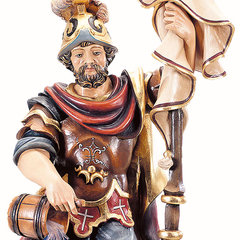 antique
Colored with acrylic colors on a chalk background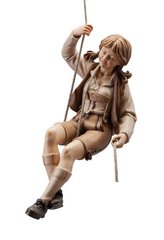 color
Colored with oil paints and gilded with gold leaf